Innovative webinar for the Building Material and Fastener Industries
An online webinar highlights innovative award-winning products from King Slide, Tronco, Sheh Kai and Sheh Fung.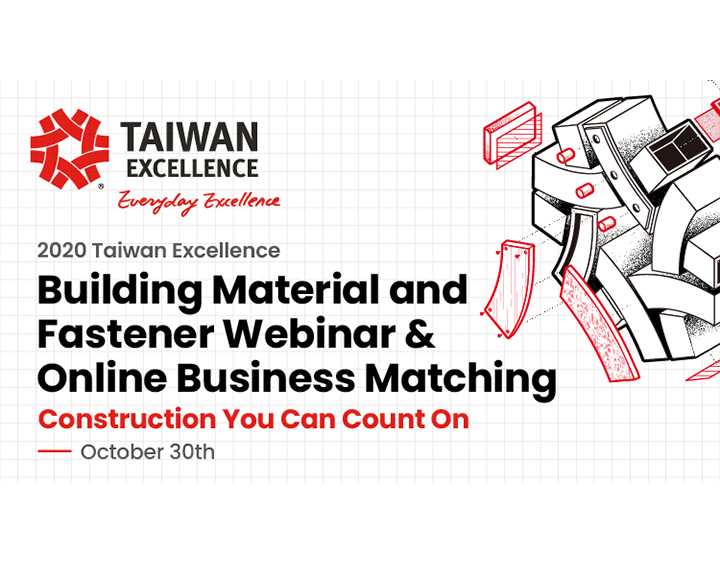 Taipei, Oct 30, 2020 – Due to the success of control over Covid-19 in Taiwan, companies and factories maintain daily operations. Taiwan Excellence, the annual Oscar for Taiwanese products, hosted "Building Material and Fastener Webinar" and invited four brand representatives to promote its innovative products. Simon Wang, executive vice president of the Taiwan External Trade Development Council (TAITRA), Taiwan's foremost trade promotion organization, said the world can still maintain connections through the Internet and that Taiwanese companies are keen to seek further collaborative opportunities with participants around the world.

The webinar was held live and shared by four award-winning brands - King Slide, Tronco, Sheh Kai and Sheh Fung, attracting over 200 international buyers and media. After the Webinar, buyers were given the opportunity to have online business match-making sessions with each speaker. Buyers were impressed by the brands and products quality and innovation they offered:

In building material products, King Slide specializes in slide tracks. The company has geared itself up with a large investment in R&D. It has obtained more than 1,000 patents on its products. It's the world's second-largest server rail brand and it's now making a strong push into the kitchen and furniture slide rails.

Tronco utilizes its competitive edge through its systematic integration and mechanical design. It gained a reputation as an expert in high-performance motor applications.

Producing fastener products, Sheh Kai and Sheh Fung are both close family enterprises each with their own specialization. While Sheh Kai specializes in high-end construction fasteners such as bi-metal screws, ultimate performance bi-metal and carbon steel screw anchors, Sheh Fung is a fastener brand that ensures quality and safeness for the users. It offers customized service and exclusive technology using a superior corrosion resistance coating.

Taiwan, as the world's technology island, is one of the first countries in Asia to align itself with the global trend and invest in the development of high-value metal production such as hardware, building materials and fasteners. Based on the strength of IT technology and a complete supply chain - the country's hardware industry has been gaining strong momentum. Taiwan's hand tool industry, for example, has an export value of more than $3.79 billion, placing Taiwan among the top three in the world last year. And the fastener industry ranks among the top four in the world with an export value of more than US$4 billion. With innovation and technology, Taiwan supplies quality and safe building materials and construction fasteners.

The Taiwan Excellence Award was established by the Ministry of Economic Affairs in 1993. Based on the four criteria of R&D, Design, Quality and Marketing, outstanding products with the most 'innovative value' are recognized. The combination of award-winning products from different industries to form a national team each year, as well as assistance in carrying out a variety of national and international promotional programs, including digital marketing, further enhances the high-quality image of Taiwan's industries.

For more information, please visit the official website; Taiwan Excellence Building Material and Fastener Webinar Event Page; Taiwan Excellence Building Material and Fastener Webinar Youtube Link.